Cutting/punching is a verified technology in the the sheet metal processing field.
We use a punching press Trumpf Trumatic 500R. This technology makes possible processing metal parts with a lot of holes and simple shapes. Another advantage is a possibility of shaping during punching. The machine works with sheets with dimensions up to 2500x1250x6mm (steel, metal sheet).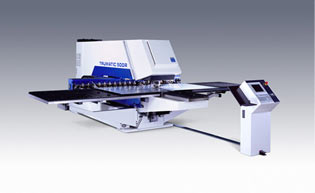 Trumpf Trumatic 500R
Max. sheet dimensions:
2 500 x 1 250 mm
Max. sheet thickness:
8 mm
Max. punching force:
220 kN
Dividing material by cutting is a process in the very beginning of the production chain and sets final product precision.
For this purpose, we use servohydraulic sheet shears Safan M-Shear 310-6 to elimininate any inaccuracy regardless of the count of cut sheets, its thickness, firmness or dimensions. Its unique hydraulic solution with high shearing accuracy, low power consumption, zero noise level, negligible volume of oil and a various optional equipment ensures precision and speed in any sort of production. The shears are equipped with a pneumatic cutting support and a sheet returning system which returns the product back to the operation, shortening the time needed for production and reducing the operation strain.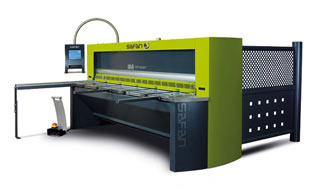 Safan M-Shear 310/6
Max. sheet dimensions:
do 3 100 mm
Max. sheet thickness:
6 mm