This door fits mainly into dividing walls with fire resistance requirement.
It's made of high quality steel sheet metal and lacquered with white komaxit (burnt powdered paint). Its opening system doesn't use any hinges, to open the door, you simply dismount it. This leads to a pure and smooth design.

The lock uses a square key (bomoro). The door's frame has special holes to hook it in a wall. The frame C-profi 1 makes the door installation easy and a lot of space for antifire cement.
The door has an antifire certification. Standard coating is white RAL 9003. To suit the needs of our clients, we can make these door in a different dimensions.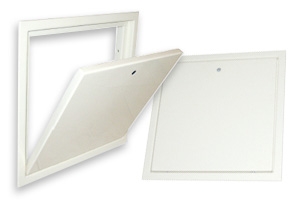 | Dimensions: | od 150/150 mm |
| --- | --- |
| Coating: | komaxit v celé stupnici RAL |
| Fire resistance: | EW30 D1, EW45 D1, EW60 D1 |